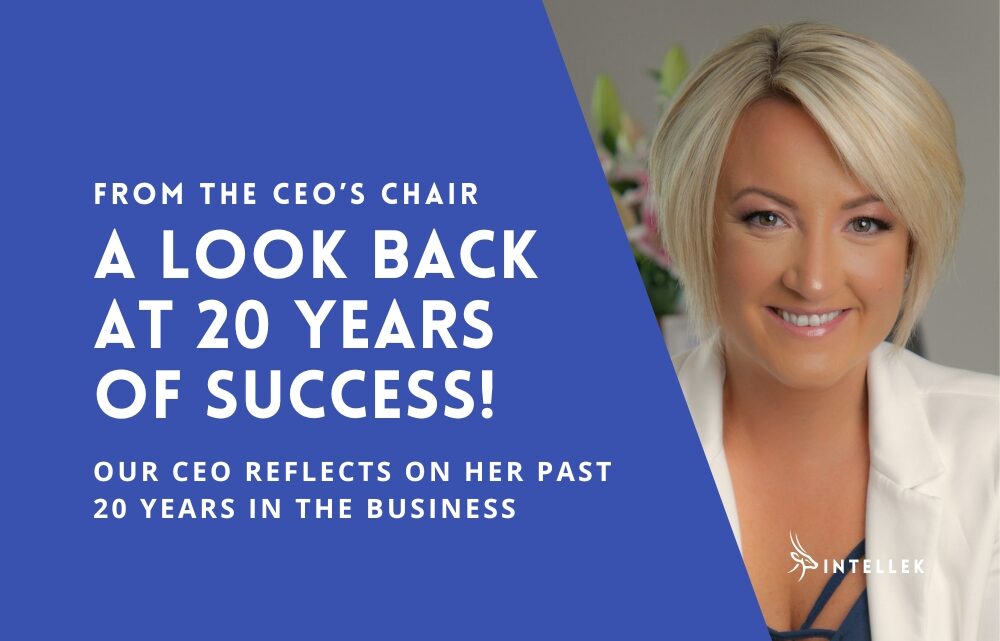 This week's blog is from our CEO, Claire Revell, as she reflects on her past 20 years in the business and shares how Team Intellek is set to celebrate this milestone! Over to you Claire…
Highlighting the most significant moments over the past 20 years is no easy task! It's been an incredible journey, with many highs but also some significant bumps in the road.
How It All Began
When I started with the company in August 2003, formerly TutorPro and founded 14 years prior, there was a small team working from an office in Devon, in the UK, and a couple of team members working from home in the US.
These were the days when businesses had five days allocated for New Hire Induction Training, a giant training manual was issued, every feature in Word was covered and learning technology was in its infancy.
Our product set included TutorAuthor, TutorPublish, TutorLibrary, and TutorSync. Some of you reading this may remember those names!
I joined the team as an Instructional Designer, developing eLearning Courses for the European Computer Driving License (ECDL), using TutorAuthor. I will never forget that syllabus. One of the first modules I ever had to create was called 'Start Up, Shut Down' and I thought it was the strangest thing. If they don't know how to start up a computer, how are they taking the course?! To this day, this module is still part of the ECDL curriculum!
The Early Years (2004 – 2008)
As the years progressed, 2004 saw the release of TutorEnterprise, our first Learning Management System (LMS). It was a few months after this I transitioned from an eLearning Developer to an LMS Software Developer. In 2006, we released TutorAuthor 'Next Generation' (TANG for those who remember the tool!), and we continued building on the LMS functionality and developing new eLearning courses.
I enjoyed being a developer but sometime around 2008, I had an opportunity to assist with Account Management and new sales. To begin with, I split my week between developing and sales. Knowing the products inside out, I naturally took to sales and loved the interaction with clients.
Our heritage has always been in the legal sector, however, as we started to pursue new industries, The Great Recession hit the UK in late 2007 – June 2009. It was a difficult time and we saw a small team get even smaller.
Bouncing Back
By 2010, we (and most of the UK) were back on our feet and I had given up the development side of my role and had become VP of Client Success.
We were a couple of team members up, the developers were continuing to enhance the LMS and had started to develop a new Content Authoring Tool, Live Content Studio (LCS), scheduled to be released in 2012. We were actually too early to market with this tool, businesses were not ready for this concept of learning. I'll come back to this later!
The Pivotal Moment
In the summer of 2010, I moved to South Africa where I spent mornings volunteering for the 'projects' in the Inchanga community, and afternoons working remotely for the business. It was at this point we welcomed our first South African reseller partner to the business, and I had arranged for the company to provide the '1000 Hills Community Centre' with free eLearning courses to enhance the computer programs they were running.
​While living in South Africa, I realized my core dreams for the business and wanted to be at the helm. I knew it could be the vehicle for social change in the countries that needed it the most. I wanted it to be a company that could leverage technology to solve real-world problems, and I wanted to strive for female representation in STEM and leadership roles.
​Six Years Flew By! (2011 – 2017)
After returning from South Africa, still VP of Client Success, we started to explore new markets again and continued to welcome firms from the AMLaw 200. Our Instructional Designers were busy keeping up with the demand for eLearning content. LMS v2 was released in 2012, and in 2014, we saw the launch of our partnership with the well-known Suffolk/Flaherty Tech Audit.
In 2014, we also started to onboard a handful of clients for Live Content Studio (LCS), which had been released in 2012. However, it wasn't until 2018 that we really saw businesses adopt this software and started to see the value in this concept of learning. This was thanks to the term 'Learning in the flow of work' being first coined by Josh Bersin, as stated by CIPD.
In 2016, the National Society of Legal Technology (NSLT) chose us as their technology partner and today we support over 200 law schools and paralegal programs. A few months later, we became an LTC4 vendor member, allowing us to create approved eLearning and assessments for their established industry standard legal technology core competency learning plans and certification, that all law firms and corporate legal departments can use to measure ongoing efficiency improvements.
New Leadership
In the summer of 2017, I was appointed CEO. You can read more about this in my personal journey. Back to business!
My focus for the first 6-8 months in this position, was spent supporting the team, focusing on the health of the business financials, and then we looked to the development and strategic plans for the next 12 months. New leadership can be challenging, but the team understood and supported my bigger vision. I will be forever grateful for this.
2018 – Present Day
After no new product launches for six years, 2018 saw the launch of not one, but two new products! LMS V3 and our first iteration of a Performance Support System, more commonly known today as a Digital Adoption Platform.
Terminology and L&D trends continue to change but we are proud to have always been at the forefront of learning technology and in August 2019, we celebrated 30 years in business. As part of that celebration, we appeared on an Atlanta Radio Show, and that was quite an experience!
2019 was also the year we attended two new conferences, ATD and DevLearn, both of which were fantastic opportunities to meet new businesses that we were starting to expand into.
We hit a financial milestone in 2020, and despite the team working remotely during the pandemic, it was important to me to find a way to celebrate and recognize the team's hard work. I had emailed each of the team privately and told them they would be receiving a box, to keep it safe for me and email me when they received it. Once I got confirmation from everyone, I scheduled a last-minute meeting with a non-related subject line! On the call, I proudly shared that we had achieved the milestone and asked them to get their box!! I had sent them all a personalized gift along with a thank you card. It was a special moment that I'll never forget, and we even recorded the session for a keepsake!
Accreditations and Recognition
Securing ISO 27001 accreditation, Cyber Essentials Certification, and implementing annual Penetration Testing were three important Accredications we accomplished.
In 2021, we celebrated being featured in Forbes, New York Weekly, LA Progressive, and many other publications and Forbes again, earlier this year.
In 2022, we continued to celebrate the wins as the team started to gain the recognition they deserve. We were featured on the Fosway Group Digital Learning Grid for the first time. We received Software Suggest's Customer's Choice Award & Best Value Award, Happiest Users Award from Crozdesk, and NWRA's Best Legal Industry LMS. We also received 5 Star Ratings on Gartner, Crozdesk, and Capterra.
Strategic Partnerships
I believe in collaboration over competition, and building strategic partnerships is something I thoroughly enjoy. NSLT's partnership was flourishing, and in 2019/2020 we partnered with Enspark and KnowBe4 to deliver a library of Business Skills and Security Awareness training to our clients.
Rebrand to Intellek
January 2022 saw the business rebrand from TutorPro to Intellek. For those that missed it, Intellek, means 'intellect' in Afrikaans, creating an important link to our involvement in South Africa and where the dream of Intellek was first realized.
Our female Gazelle logo, Springbok in South Africa, depicts strength, agility, and intelligence, and it is a powerful symbol of women rising above adversity. This amplifies that Intellek is proud to be a female-led company, that stands in the gap for women in business, continually fighting for fair and equal representation in STEM and leadership roles.
In a business sense, the Gazelle is a company (often found in the tech space) that shows high growth and increased revenue. Gazelle companies are also known for job creation and are credited for being among the best sources of new employment in open, entrepreneurial economies. Intellek is most definitely a Gazelle!
Today, a percentage of our revenue goes directly from Intellek to 1000 Hills Community Helpers, our charitable partner in South Africa.
Ever-Evolving Products
The Intellek LMS continues to evolve with new features being released every quarter, far too many to list! However, last year, we launched our first ever LCMS (Learning Content Management System), and most recently launched eCommerce into the LMS.
Our Content Creation Tool, Live Content Studio, transitioned to a web-based tool and was rebranded as Intellek Create. The biggest benefit of being web-based, allows Instructional Designers to quickly create content collaboratively.
Intellek Deliver, our leading Digital Adoption Platform (DAP), has evolved with a wealth of new features and functionality. Helping businesses transform the software adoption process by simplifying the learning experience and ensuring proficiency, while also realizing the full potential of digital transformation.
Our Client Family
Growth and comfort don't coexist, and over the past five years, we've seen our Client Success Team leverage a plethora of new tools to support our Client Family.
In 2019, we implemented a new CRM with an integrated project management tool, providing a collaborative onboarding platform.
Three years ago, we began hosting monthly Client Family webinars, which have evolved and provide added value. They're interactive and informative. We share product updates, celebrate client wins and clients can share best practices with one another.
In 2021, we started hosting Roundtables, focusing on industry hot topics. Ideas and suggestions are exchanged, resulting in greater customer satisfaction.
Over the past year we've implemented a support portal to enable clients to log and monitor their tickets online, added a live support chat into the LCMS for admins, deployed online help, and we release 'How-to Videos' with monthly updates.
As the business saw these successes come to fruition, we were incredibly happy to welcome back clients that have left for what they thought at the time were "greener pastures". As one client stated…
"Within the first week of using the other LMS, we realized we had made a huge mistake… and we ran, not walked, back to Intellek who has the best legal LMS for law firms."
More recently, we've launched our new Product Focus Group, allowing clients to be more involved than ever with our product roadmaps.
Over the past 3 years, we've been proud to maintain a 98% – 100% retention rate, with 50% of Intellek's clients exceeding 5 years tenure and several exceeding 10 years tenure. 100% of clients report that Intellek advocates for them, and that the software has a positive influence on their business. In addition, we successfully achieved a Net Promoter Score (NPS) of 92, two years running.
I'm grateful to our Client Family and Business Partners for their continued support, we have built some phenomenal relationships over the past few years. We have accomplished some astonishing goals, and I'm so excited for what the future holds.
Team Intellek
I closed both the UK and US offices during the pandemic, and the team became fully remote. We worked hard to embrace a new culture, the team thrived, and were able to focus on supporting our clients through this challenging time.
Since 2017, the team size has tripled and we're continuing to recruit this year. The thought of recruiting initially was exciting but somewhat daunting, especially as we'd been a small team for so long. On one hand, I needed to expand as we were growing the business. However, it can be a huge time investment and if you have a small team then it's key to add the right people to the team. A positive company culture is crucial and I want to do everything I can to maintain it, and it can be difficult as the team continues to grow.
Sharing my vision is essential to the success and growth of the business. It means the team knows where we're headed and encourages them to be fully invested in the journey.
A couple of years ago I implemented 'Strategy Weeks' and 'Fridea Days'. We have two scheduled weeks of the year, and one Friday of each month blocked out. The team steps back from their normal role and uses the time for personal or business development.
Having these opportunities, and being transparent about my plans for the future, have significantly boosted creativity, and stimulated idea generation towards the right goals. The team knows how they're playing a part and the ideas that have come to fruition have been incredible!
It's an honor and a privilege to work with such a remarkable team. They have excelled and gone above and beyond. They are not only hard-working and dedicated, but they have also been extremely receptive to change.
How Will We Be Celebrating My 20 Years?
A party? No! I didn't want to spend thousands of pounds on a party, or a one-week meet-up, that was then just over with. Yes, we would have had a lot of fun but it's a week or two and then that's it. Instead, we want to continue opening doors to new opportunities and build a legacy.
To support this aligned vision, some of the team and I will be going to South Africa at the end of January 2024 to build a new classroom, and After School Care Centre, at 1000 Hills.
These rooms will be used for educational activities, provision of care/support for children aged 4+ including nutritious meals, helping with homework, etc. This will be the only support center of its kind in the community and we're proud we can provide this. The classroom will be called the 'School of Intellek' with the tagline 'Opening Doors to new opportunities and a safe space'.
For those staying a 2nd week, activities may include delivering food parcels and clothes into the community, carrying out welfare checks with the nurses, serving food at the center, doing basic DIY tasks, helping to entertain the children (aged newborn–5 years), games with the older children after school and serving afterschool meals (aged 6–16 years), and assisting in the classrooms.
We cannot wait!!
What Does the Future Hold for Intellek?
The immediate future is ILTACON, in just a couple of weeks, where we will be showcasing the launch of AI across our product suite.
We'll soon be announcing two new partnerships and we'll continue to collaborate with other vendors to bring more value to our clients.
Beyond that, we will continue to work fearlessly to create the "perfect" product suite, in our belief that anything and everything is possible. We will continue to be fearless as we explore new ways to create engaging learning experiences, implement new technologies, product integrations, and build new partnerships. All the time ensuring we remain Family Centered. Everything we do centers around our clients, and we strive to continue being a founding member of learning technology that clients can depend on.
We will carry on working with our Client Family and Business Partners, to revolutionize the way businesses learn and grow. We will continue to navigate a change, close knowledge gaps and develop learning solutions that will foster a culture of lifelong learning, whilst maintaining our unparalleled customer service.
The team and I are excited about the future of Intellek and will embrace whatever challenges come our way.
Bring on the next 20 years!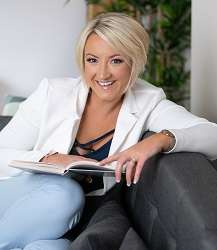 Claire is a leader in learning technology, starting her career in the tech space in 2003 (after being told not to pursue IT and Business Studies by her teachers at school). Claire became Director & CEO of Intellek in 2017 when the board bought into her bolder, bigger, braver vision. Claire also co-founded another tech company to support the new T-Level qualifications being rolled out by the UK Government. An advocate for Women in STEM and leadership roles, with a passion for digital transformation and its impact on the global economy. Claire's personal vision, through her initiative Opening Doors Global, is to ensure that every child gets access to education and a safe environment.