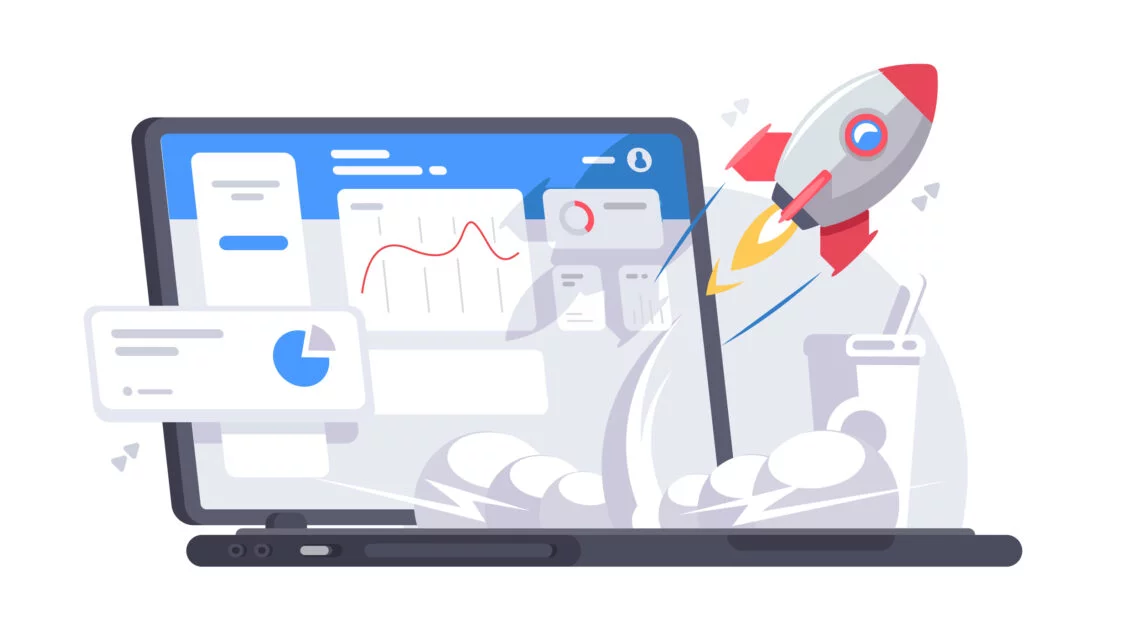 In this post, we offer some top tips and guidance on promoting your learning platform with LMS launch communication and how to use LMS communications when you go live with a new Learning Management System. Nobody likes to give their all to a project, just to see it fail for lack of uptake… read this advice to find out how to avoid that very situation!
How do I communicate an LMS Launch?
No matter how thoroughly you have planned your LMS implementation, you cannot simply open your LMS for business and expect people to flock to it. You will need to market your LMS and communicate with both the learners and managers in your organization to get people interested in what your LMS offers and drive traffic there.
However, do not think of this as a one-time occurrence. You will need to continue marketing and promoting your LMS and the content it contains long after the implementation is complete to achieve long-term success and extend your ROI.
Use the four Cs to get people engaged and interacting with your LMS.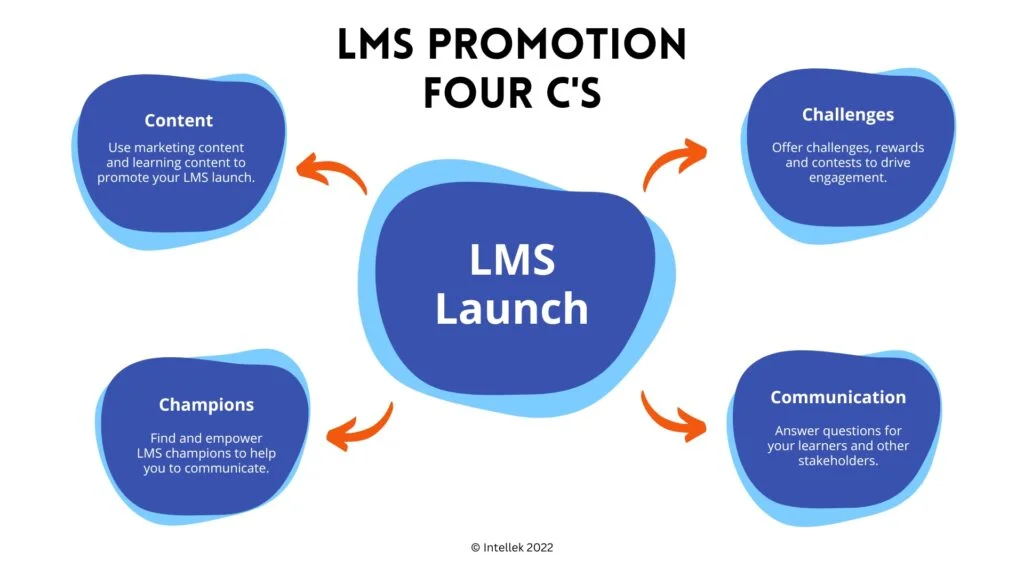 Content: Marketing & Learning
You have two types of content to leverage for marketing your LMS: marketing content and your learning content. Create a marketing campaign for your LMS that has a variety of content, but don't forget that the learning content and the benefit it will bring your learners can also be leveraged. After all, it is what people are ultimately interested in and will receive benefits from.
LMS Marketing Content
See if your marketing team can assist with a plan and assets for marketing the LMS. Your plan will need to be both digital and analog in nature. Use videos, emails, blogs, posters, intranet announcements, newsletters, show and tell sessions, staff, team and town hall meetings, as well as your organization's social network to spread the word. Make the content interesting, fun, and active.
Plan LMS Communications
Don't just randomly market your LMS launch. Have a plan that is coordinated and scheduled. Lay it out on a calendar just like you have for the entire LMS project. Now is not the time to 'phone it in' – check with your marketing team to see if they have marketing automation software that can be used for your LMS campaign.
Design & Branding for your LMS
Create a brand for your LMS that includes a color scheme, logo, and name that conveys your learning strategy and the organization's goals for its learning program. You will use this branding to give a cohesive look across the LMS and learning content, as well as your marketing before and after go-live.
Create templates that include your branding for the different resources that you will use for both marketing and learning content. If your LMS has a feature for it, you could also use LMS banners to promote various aspects from within the system.
While it might be tempting to relate your brand to schooling, education or university, remember the anxiety many people associate with learning. You want your brand to be approachable.
Focus instead on the individual's professional development and benefits to them. The LMS is an entity that you will refer to, as in "Go to _____ to register for ____;" or "Search in _____ to find the solution to that problem". You don't want to just call it the LMS, so determine what you want that name to convey.
Vision in LMS Communications
The vision encompasses conveying the key concepts and "The Why" or purpose of the LMS, as well as a plan for developing your champions and providing them with resources to help spread the message.
Promote Learning Content
Your learning content is the whole reason for the LMS, so leverage it too. As part of the marketing plan, be sure to include a schedule using your learning content to drive traffic to your LMS.
Some suggested uses of your learning content for marketing are:
Provide tips with links to resources within the LMS. Tips can be placed anywhere that learners regularly go for information, such as the company intranet, team sites, or within the company's social network. Just ensure that they always lead back to the LMS. Having some "Did You Know" tips early on can be very effective to showcase your LMS features and content.
Brand/Promote upcoming events. Think of interesting ways to get the word out about learning events being held. You can create themes based on seasons or the time of year or around related types of content. Tie them to specific business goals to gain additional management support.
Advertise new content. Dole out pieces of content over time to keep people coming back and have something fresh and new for LMS visitors to discover. This is especially important if your LMS highlights new items, so things don't look stale.
Share success stories. Have learners share how they have benefited from learning in either a blog post or as part of a tip or other campaign. Most people like seeing their "name in lights" or being identified as "smart." For those who do not, you can always refer to them generically as "one of the secretaries in Litigation."
Challenges, Rewards & Contests
Have some contests or challenges to drive traffic in your LMS and generate some buzz within your organization. Get creative and have some fun! Using group dynamics to get people competing together is a great way to extend the reach of these activities beyond a few individual winners.
LMS Scavenger Hunt – Create an LMS scavenger hunt where learners must find items within the LMS.
Easter Eggs – Plant surprise "Easter eggs" within the LMS for people to find as they begin accessing the LMS and content.
Reward Participation – Create an LMS onboarding learning path that includes coordinated daily or weekly action items and then throw a pizza party for offices or groups that have 100% participation/completion after a set amount of time. This learning plan can then be used for future new hires to your organization.
Early-Adoption Awards – Award small gift cards for anyone who completes a set number of credits or hours within the first month the LMS is active.
Learning Success Stories – A few months after your LMS has been released, hold a Share Your Learning Success Stories campaign to encourage people to share how they have used the LMS, what they have learned, and how it has benefitted them. You can either give everyone a small token of appreciation or select the top 5 or 10 to receive something.
Of course, some of these things will require spending some money, so be sure to factor them into your budget and request funds early. However, rewards don't have to be "stuff." It could be something like lunch with an executive. In the grand scheme of time and money that has been put into the project, these items are small expenditures, so now is not the time to start counting pennies.
LMS Launch Champions
People need relationships and a sense of purpose at work, so work within the social structure of your organization to break down the natural resistance to change, instead of battling against it. The motivation of a few extra perks, feeling listened to, gaining status, and having access to privileged information should not be underestimated.
Leverage these things by developing champions for your LMS and learning programs. If you can get them to understand the 'Why' and purpose of your LMS project and its benefits to them, then they will get others on board with the change.
You should be prepared to give as much as you gain with your LMS champions because they will also serve as the voice of the learners back to your learning and development team. These individuals will need to be involved in two-way communication, so they feel like they are part of your team and will be listened to when they provide feedback.
Also, it's not enough to just listen. You must take action and report back to your champions. Schedule regular time with them to gain their insight and report back on what actions have been taken and what things have not been acted on, as well as why. Providing breakfast or lunch is a great way to relax the mood and get people talking.
After you gain their trust and buy-in, don't be afraid to ask your champions to do specific things within their circle of influence to get the word out, such as sending emails, sharing their experiences, or pointing out useful learning content. Give them the resources to guide and teach their peers. This is part of the give-and-take of the relationship.
Finally, consistently encourage your champions and reinforce their importance to you and the impact that they have, and be sure that is conveyed to management as well.
LMS Launch Communication
We have saved the most important item for last – LMS launch communication. Communication is essential for driving the adoption of your LMS by learners and management in your organization. A big part of user adoption and change management is communication. It sounds simple but needs to be well thought out and planned.
First, break down your stakeholders and determine what information and delivery format are most valuable to each group. Only then are you ready to create your plan. While each organization is unique, this will give you some ideas to get started.
Strategic LMS Communications
Your communication and the user adoption of your LMS will happen over a continuum (shown below) and will not occur just during the implementation, but continue throughout the life of your LMS, because you will be adding new users and content over time. This applies to your entire learning program, not just the LMS.
Start by building awareness with very basic, data-driven simple communication. Next, your goal is to increase understanding, which is the phase where you begin explaining and creating a dialogue in order to gain acceptance by encouraging questions and involvement.
Your next communication goal is building alignment – creating behavior change to support organizational goals by connecting the dots for all stakeholders. The final goal is a commitment where responsibility is accepted, but you still provide ongoing support, resources, feedback, and reinforcement to continue the dialogue.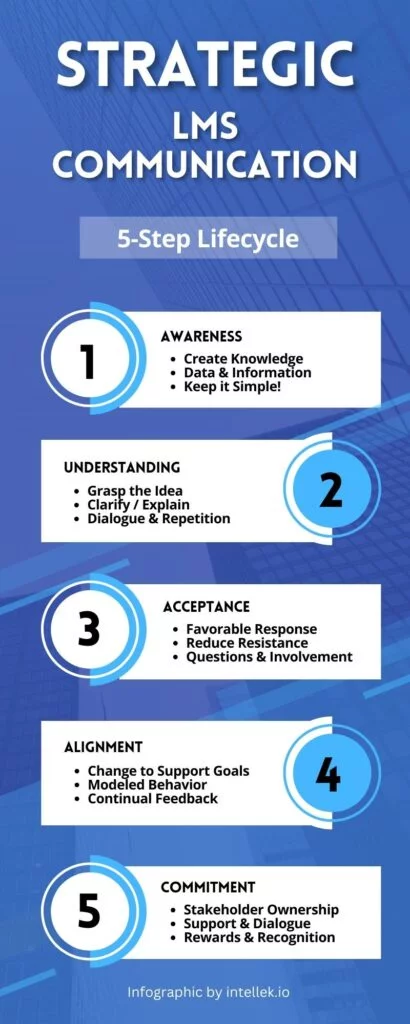 1. Awareness
The initial communication goal is to simply create knowledge of the LMS by sharing basic data and information. Do this by keeping it simple. Include just the facts: what, when, where, and a very basic explanation of why the organization has purchased an LMS.
2. Understanding
The goal of the next set of communication is to help people grasp the idea, purpose, and benefits for them. It is at this stage that you need to share 'The Why' which is the deeper meaning for the organization and the learners that will be delivered by your LMS.
This is your chance to clarify and start a two-way dialogue. This also begins the repetitive communication needed to ensure that everyone hears your message.
3. Acceptance
During the acceptance phase, you want to gain a favorable response and reduce resistance. Hopefully, this happens prior to your LMS go-live! You do this by encouraging questions and increasing the involvement of the stakeholders.
You want to provide several channels for open communication with the different stakeholder groups. This is where LMS launch champions can be very helpful.
4. Alignment
Alignment is all about creating behavior change to support organizational goals. This is communicated by showing how learning connects to business results.
You will want to plan how the activities that are occurring in your LMS can be linked back to measurable results in the business so that you can track them. This is how you show the long-term ROI of your LMS to management and convince learners that investing time in learning activities is worthwhile.
5. Commitment
Finally, commitment is defined by stakeholder ownership and accepted responsibility, which is achieved through ongoing support and dialogue that continues to show the value of the LMS over time.
Questions to answer in LMS Communications
The key to setting expectations for your learners and other stakeholders is answering the most basic questions they will have.
Learner Questions
At a minimum, you will want to ensure that your LMS communications answer the following questions:
How do I access the LMS?
Can I access the LMS from home or on other devices?
Am I required to take courses?
How do I find what I need?
What's in it for me? (most important)
As a learner, if I don't know how the LMS will benefit me, then there is little or no incentive for me to use it, so keep that top of mind at all times.
Stakeholder Questions
Each stakeholder group and role requires different types of communication, so answer the following basic questions for each group:
How can I use this system to benefit my team?
How will this system make my job easier?
What is expected of me?
LMS Launch Communication Examples
There are three distinct phases to your communications about your new LMS: pre-launch, go-live, and post-launch. The goals are distinctly different at each phase.
LMS Pre-Launch Communication
Communications during the pre-launch phase will center around raising awareness, increasing understanding, and gaining acceptance – getting people used to the idea of an LMS and showing them how it will benefit them.
During this phase, you will want a barrage of communications using a variety of channels and formats. These should build as the go-live date gets closer. Near go-live, hosting show-and-tell sessions for people to see and work with the LMS accomplishes this goal and can also net you valuable feedback. Use your champions for additional feedback and to start spreading the word!
LMS Go-Live Messaging
At go-live, the goal is to get people into the LMS and using it, so create some buzz by including the interactive challenges mentioned above and leveraging your champions to generate excitement.
LMS Launch Email Examples
Here are some LMS launch email examples that we've drafted for you. Before using either of these you should adjust to make it relevant to your organization and system capabilities:
LMS Launch Email Example 1
Subject: Introducing Our New Learning Management System!

Dear [Employee's Name],

We are excited to announce the launch of our new company learning management system (LMS), which is designed to help you achieve your personal and professional development goals. With this LMS, we are committed to providing you with the best possible learning experience, so that you can stay ahead of the game and continue to grow within our organization.

Our new LMS offers a user-friendly interface that allows you to access training modules and resources on-demand, at any time and from anywhere. You can easily track your progress, review completed courses, and earn certifications. Additionally, you can collaborate with your colleagues, share knowledge, and gain new insights through discussions and forums.

Whether you are looking to improve your job performance, learn new skills, or prepare for career advancement, our LMS has something for everyone. We have curated a wide range of courses, including technical, soft skills, leadership, and compliance training, to help you develop your expertise and stay up-to-date with industry trends.

To access our new LMS, simply log in to the platform with your company email and password. You will have access to all the features and resources you need to take your learning to the next level.

Login Here: [URL for LMS Login]

We are confident that our new LMS will revolutionize the way you learn, grow, and succeed within our company. So, let's get started and unlock your full potential today!

Best regards,

[Your Name]
LMS Launch Email Example 2
Subject: Discover Our Exciting New Learning Management System!

Dear [Employee's Name],

We are thrilled to introduce you to our new company learning management system (LMS) – the ultimate tool to help you reach your professional and personal goals. Our LMS is a powerful platform designed to provide you with an engaging and effective learning experience.

Our new LMS is packed with a wealth of resources to support you in your development journey, all at your fingertips. With an intuitive and user-friendly interface, you can access a variety of interactive courses, training materials, and expert-led workshops.

This LMS is designed to cater to your unique needs and interests, offering a wide range of courses, from technical and soft skills, to leadership and innovation. Whatever your career aspirations, we have something for you.

Our new LMS also features gamification elements to make your learning experience more engaging and fun. You can earn badges, rewards, and even compete with your colleagues, making learning a more social experience.

Moreover, the LMS enables you to track your progress and achievements, giving you a comprehensive overview of your development journey. You can customize your learning path and choose the topics that best fit your needs and interests.

Accessing the LMS is simple, just log in using your company credentials and start exploring the platform. It is accessible from any device, meaning you can learn at your own pace, wherever you are.

Login Here: [URL for LMS Login]

We believe that this LMS is a game-changer for our organization, providing you with the opportunity to enhance your skills and career progression. We can't wait to hear about the progress and achievements that you will make with this incredible tool.

We invite you to take the first step and join us on this exciting learning journey.

Best regards,

[Your Name]
Post-Launch LMS Communications
Post-launch starts the day after go-live and continues as long as you have your LMS. You don't just set it and forget it. Continue to market the benefits of your LMS and deepen ties back to the organization's goals for developing its employees and improving their performance.
You will also need to continue to gather feedback. Use your champions to keep your finger on the pulse of your learners and make needed changes.
More Resources for Launching an LMS
If you found this article useful, you can download it as a PDF to share or use as reference, along with many other practical resources in our free eBook guide to use when evaluating an LMS for your organization.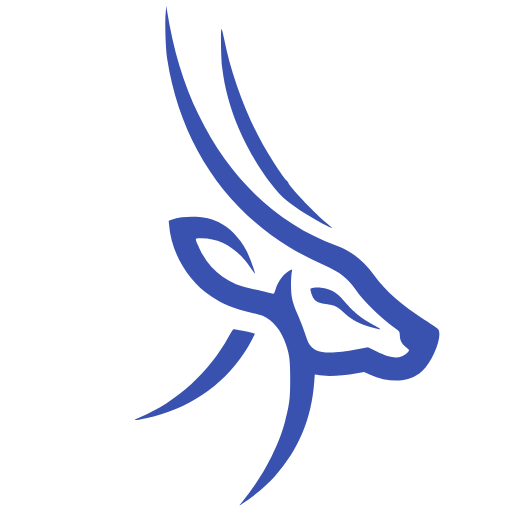 Intellek (formerly TutorPro) is a founding member of the learning technology industry. With a presence in the USA, UK, Canada, and the EU – for over 30 years we have pioneered the development of cutting-edge eLearning software and online training solutions, with a large and diverse portfolio of international clientele.
Disclaimer: We use all the tools available including generative AI to create relevant and engaging content.