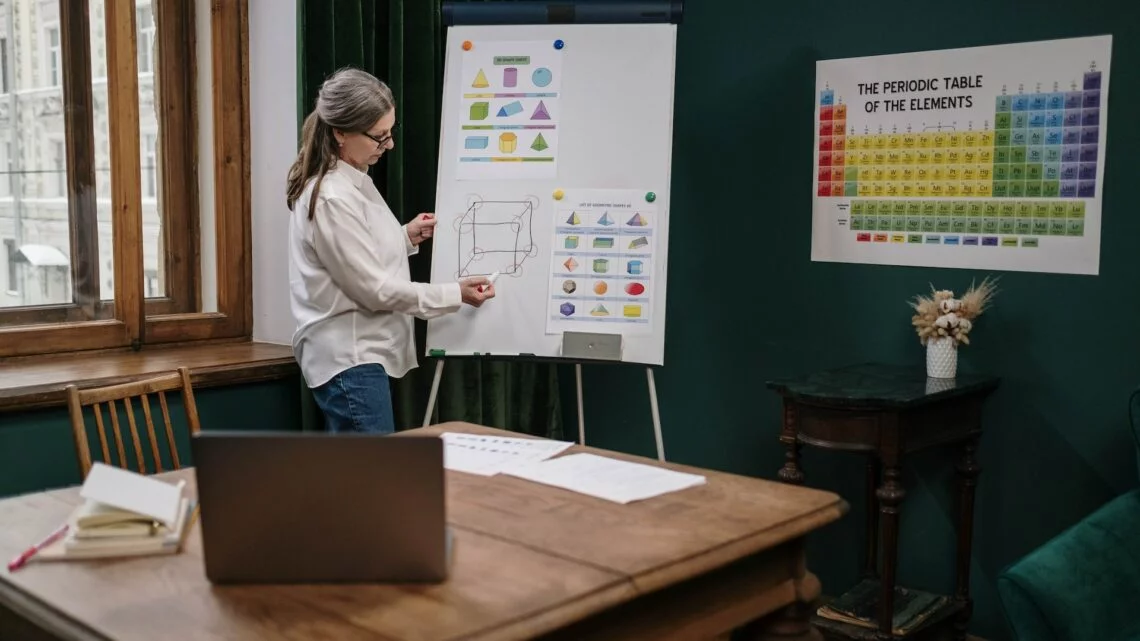 This week's blog comes from Intellek HQ, as we talk about the importance of a robust Event Calendar in a Learning Management System (LMS) and some crucial things to consider when reviewing an LMS for Event and Webinar Management.
Many businesses have transitioned to a fully remote training program, whilst some are transitioning back to the classroom fulltime, and for others they're adopting a hybrid learning approach.
The Calendar is a key part of any LMS and if you are looking for a new platform it's crucial to ensure it "works for you". It needs to be the vehicle for managing training across the organization in a simple and efficient way. These are the top 5 areas we recommend you review during the due diligence process.  
1. Multiple Scheduling Options
A robust Calendar should provide the capacity to schedule not only just a one-off event but also a series of events, and events that occur regularly using recurrence. To support businesses fully remote, or delivering training using a hybrid approach, it's important you have the ability to add webinar details when creating an event. Many LMS's, including the Intellek LMS, will also support the ability to add a location-based Event and a Webinar, giving employees the option to choose which they'd prefer to attend.
Features that may seem 'nice to have' but are in fact vital to being efficient as the training Calendar gets busy, is 'Bulk Import Events'. This much-loved feature by our clients allows trainers to import an Excel spreadsheet that contains a list of upcoming Events, and the LMS will create those Events onto the Calendar for you. 
Once you've scheduled the Event, there is so much more functionality that the business needs to fully manage the Event.
Adding Event attachments makes it simple for the learner to gain quick access to relevant resources, before, during, and after the Event. Plus, having the facility to review those that are 'Interested' in Events before they are scheduled is a valuable feature, as are the Event Rosters. 
Automation is implemented to save you time. What types of automation should businesses look for when it comes to an LMS?
Surveys – When an employee finishes a Course or attends an Event, the LMS should provide an option for a Survey to automatically be assigned.
Conflict Checking – When an Event is scheduled the LMS should conflict check the Venue and Trainer availability.
Outlook Integration – When someone enrolls onto an Event, a Calendar appointment should be sent out to Outlook, Gmail etc. If details of an Event are modified, an 'Update' appointment should be sent. If the learner cancels their place, or if the Event is cancelled, a cancellation appointment should be sent.
Waitlists – If an Event is full, learners can still sign up and they're moved to a Waitlist. If the Event size is increased, or if an enrolled learner cancels their place, those on the waitlist should automatically be enrolled.
Reports – Every LMS should provide an array of robust reports, and the added functionality of 'scheduling a report' is a great addition. This automates the running of reports, and the system will email you a report on a recurring basis to save the business from having to run these manually.
4. Relevant and Easy Communication
We recently shared a blog 'Three Reasons Why Deep Linking Is Crucial In An LMS', where we explained how deep linking works and the benefit. In addition to communicating via our much loved "deep linking" approach, you may need a way to email a list of learners directly from an Event. 

Perhaps once you've scheduled an Event, or Webinar, you need to send an email to those that have Enrolled, or maybe after the Event you need to follow up with No-Shows or Cancelled learners. If the LMS provides an easy way to communicate to those learners on an Event, it makes communication simple and efficient. Another great communication feature is being able to send an Event broadcast. This type of email can be sent to an individual, or a group of learners, and can be used to promote Events and Webinars
5. Standard Learner vs Trainers
The way that a standard learner uses the Calendar in an LMS is of course very different to how a Trainer will use the Calendar. The LMS needs to support this.
On the Home Dashboard if the business chooses to present 'Upcoming Events', the Events initially need to be presented in their local time zone. In addition, a Learner needs to be able to click onto an Event and immediately enroll. However, if a Trainer clicks onto an Event, the best practice is for them to be taken into the Event Details page, to provide quick access for managing that Event.
Intellek is proud to support one of our client's training mantra, "2 clicks, 10 seconds". The best user experience is when businesses can get employees the information they need in 2 clicks or 10 seconds.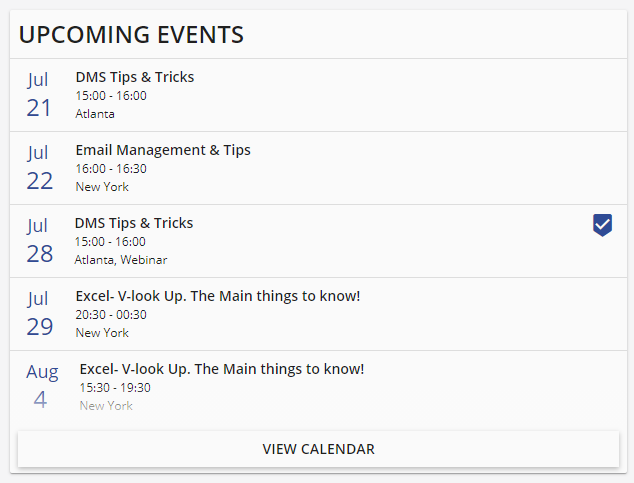 If we look at the Calendar itself, our clients find it extremely helpful to have a relevant 'legend' as well as an indicator to show how many learners are signed up.
What Do Our Clients Have to Say...?
"The biggest time saver is definitely scheduling of Events, without a doubt! Intellek's LMS is great with core functionality – don't take that for granted. Its usage extends far beyond just the L&D department. The course library and calendaring features are used heavily by many of our departments. I have over 20 years of experience in using and administering Learning Management Systems, and Intellek is my all-time favorite!"
Nick Stanzani – Director of Learning & Development
Faegre Drinker Biddle & Reath LLP